"Please have a look at my work and stay awhile." Dick Toone, Artisan and Proprietor
In 2011 I undertook the Honourable Company of Horners' By-Law project that provides the Guild have an 18th Century traveling horn shop for educational demonstration at various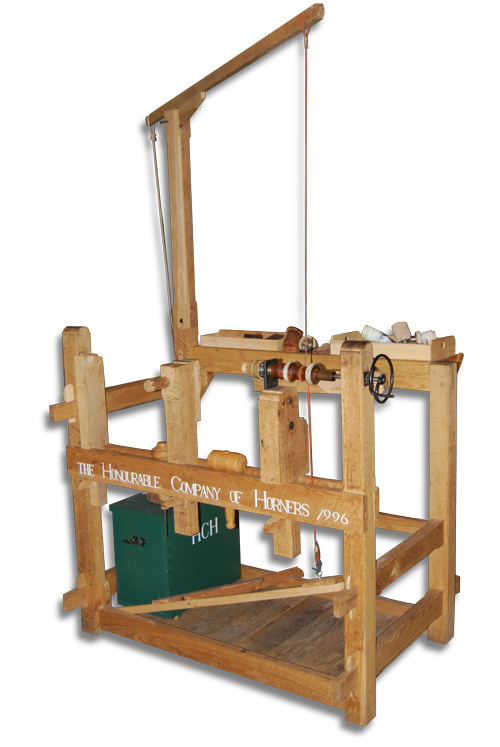 guild related or historical presentations. The lathe is specific to the production of professionally made powder horns using lathe construction detail of an original example capable of turning in open air without fixed centers. A very rare example of this sort of lathe exists in the collections of Old Salem, Winston-Salem, North Carolina.
Old Salem gave me permission to photograph and measure the original and a full size reproduction made by resident gunsmith Blake Stevenson operating in "The Brothers House" original structure. Old Salem is similar to Colonial Williamsburg other than it is in all original buildings, has working gunsmiths and bread baked in a 250 year old oven. Old Salem should be on every historical enthusiast's bucket list. (www.oldsalem.org)
Spring Pole lathes were state of the art for about 500 years gradually replaced by large wheel belt driving small wheel lathes using an off-set crank on the large wheel operated by direct coupling to foot driven rocker treadle toward the end of the 1700's. These later lathes are called treadle lathes (direct continuous drive) even though a treadle board operated spring pole lathes for centuries.
A major part of the lathe challenge was to establish means to hold and turn things with only known to the period devices. This required jigs, fixtures and even tools unique to the operation of a slow turning lathe that only operates one and one-half turn towards the operator per stroke of the foot.
Modern lathes have easily adjustable inner and outer chucks not available in spring pole times. Professionally made powder horns from a Horn Shop would have been constructed of turned components that could be closely fitted round to round for sealing out moisture. "Keep your powder dry!," as the saying goes.
Professional Horn Shops made various tight containers, combs, buttons, shoe horns, rims for optical lenses(glasses), drinking tumblers and window pane. Yes, flat clear pane for horn books used in schools as well as lanthorns, later called lanterns with glass or mica lenses. When heated cattle horn becomes plastic an adjective meaning malleable. Modern plastic is used as a noun for polymerized, chemical stew that replaced thousands of laborers in the horn industry early last century.
The epicenter of American horn manufacturing was in Philadelphia in the 18th Century boasting twelve shops at the time between the French and Indian war and the American Revolution. Horn smiths looking to strike out on their own relocated to the Southern and Western frontiers producing styles of horn independent of Philadelphia styling allowing researchers today to regionalize examples to a county and sometimes a town by their unique design. The hornsmiths migrated to wherever the frontier moved and the need existed.
Common to almost all professionally made powder horns is a stylized round wooden plug sealed tightly to the heated rounded horn at the big end opening. The tip of the horn is cut off and threaded of a size more suitable for refilling the powder horn. A two to three inch horn tip with a smaller diameter hole is tightly threaded into the main horn. Optimum word tightly to seal. Around the threaded portion of the horn body a horn collar is turned and fitted to provide structural strength to the area around the threaded portion. All of these items need a lathe to make them expertly and each item requires fixtures designed to work within the scope of 18th Century machining. This is experimental archaeology and none of the horns I've made are for sale.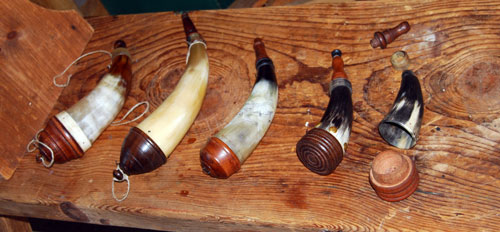 Check out www.hornguild.com for more education about working in cattle horn and this link to see a number of "posts" about the Honourable Company of Horners' spring pole lathe project.
I will be demonstrating with the Spring Pole Lathe at Horn Guild annual convention in March of 2016, Dixon's Gun Fair in Kempton, PA and the CLA show in August at Lexington, KY in 2016. I will be demonstrating the lathe local to me at the Jersey History Fair at Monmouth Battle Park Freehold, NJ in May 2016.
Regards,
Dick Toone
I thought I would share a Delaware Valley Style 18th Century design table I have made for sale using hard curly maple for the top, hand planed stained Lancaster Maple, with seven coats of Water Lox finish. The breadboard ends and the cross batons are both dovetailed with care and single centered pegged to allow expansion and contraction of the solid wood with humidity changes without the top splitting. The legs are made of poplar 1 3/4 inches thick painted correct Windsor green color.
This very strong and beautiful table that is easy to set-up for home or field. This item is sold.
I need to exclaim that my position that there were no 18h Century chairs/stools with backs was wrong. Ty Davis, past Captain of the American Long Rifle Association (ALRA), discovered an illustration in the 1769 edition of "L'Art du Menuisier" by Andro Jacub Roulo showing two examples of a folding chair/stools with a back. This drawing from the book illustrates the chairs along with another example of a folding bedstead and table. I have no intention to try to duplicate either example as both look uncomfortable.

This gun is SOLD.
The smooth rifle in the photographs is my latest flintlock gun of over two dozen starting back in 1975. I first discussed and photographed the original in 2000 with the late Joe Kennedy at Washington Crossing State Park, New Jersey. It is in the private collection of H. Kels Swan. He purchased it at an estate sale of a Reynolds family from West Chester, Pennsylvania.
I was most impressed by how the gun held and pointed. Next was the condition. It was evident the breech plug had recently been worked on supposedly to remove a bullet lodged down the barrel about a foot from the muzzle. What is also evident in the gun's condition is that it had been well used and it had lain many years with the lock side up. This side is smooth and darker than the other side which is a captured time capsule of original production. Evident are longitudinal plane marks, gouge thrusts in the forestock and butt stock moulding, file marks, and even a chip partially dislodged in the decorative carving held in place by original varnish. I visited the gun at times for a decade discovering a new facet and consulting often with Shumway's "Muzzle Blasts" articles and his books about early Germanic examples.
Joe Kennedy thought the gun might be of German origin but the Walnut stock is of open grain more like American Black Walnut. The clincher, I think, is the "small shop made" side plate, minus any engraving, with two filed slash marks canted to match those on the Germanic lock and the rather plain ramrod pipes. The butt plate and trigger guard are highly embellished with Rococo engraving, and side plates were available to match. I see economy of cost indicative of frontier production not using a set; not European guild work. The tapered breech plug termination appears on early Shumway examples of German origin. This gun expresses transitional manufacture by a trained German smith building in a Pennsylvania shop using import hardware supplemented with home manufacture. I was not able to disassemble the gun to look for internal or obscured maker marks and none are evident on the outer surfaces.
Close examination while replicating the gun revealed that the rear entry thimble terminus design when flattened is in perfect Golden Mean proportion side to side bulges as well as length. It appears like a flame pointing back to the holder of the gun. Incised engraving carved around the thimble in the forestock are tendrils of plant life just beginning to sprout.
More developed tendrils interweave with matching flower buds to the rear and side of the breech plug. This indicates growth in the stylized art form that fully develops in the carving on both sides of the stock rear and the patch box lid. In these carvings five petal flower blossoms partly appear symbolizing man's voyage in life on earth only to be fully discovered in Heaven. A very artful message from the past, possibly by a Moravian brother in a wilderness shop, in the late middle of the 18th century. I have tried to duplicate the style and art of the unknown artist and added my touch of color to the decoration. The ramrod with the original gun has very faint evidence of stripes on the portion within the forestock and so I included this decoration too.
Specifications:
Jim Chambers Germanic lock with deluxe Siler cock.
Robert Hoyt 401/2″ barrel .62 cal. octagonal to round custom made to dimensions of original.
Mold and Gun Shop butt plate and trigger guard of J. Dobbs design modified by me.
Wayne Dunlap Walnut stock blank with barrel inlet by Mark at Jack's Mountain Stocks.
All other components made by Dick Toone. Weight is 7 3/4 lbs.
The stool as it now called was a "chair" in ancient times. The stool, consisting of a frame with a covering suspended on the top for a seat has been in use for over 2000 years.  Originally the stool (chair) was used only by a king or chief, so it follows that the position of a chairman at a meeting comes from this exalted use.
I have offered common stools using strong woods and 18th Century joiner methods for 25 years as a camp accessory with no known original to copy. These have been mistakenly called Washington stools by others. Washington's stools were provided to him by Philadelphia upholsterer Plunket Fleeson along with tentage and tables May 1776 and are of unique construction. We know of the construction from only two known of the original eighteen. They are as different from my common stool as a Volkswagon is to a Cadillac and by my agreement with the Smithsonian not available to the general public. Duplicates of Washington's stools made by me may be seen at Yorktown National Historical Park and at Rockingham Historic Site in Kingston, New Jersey.
My common camp stool is very strong and stable with two grades of seating- heavy linen canvas or double layer heavy cotton. Cotton will stretch and was not used in this fashion in the 18th Century. Frame construction is the same for both versions of the common stool.  Linen costs more. The difference is due to hand stitching and cost of linen versus machine sewn cotton. Common camp stools come painted red, blue, green or yellow.  This common camp stool is available in linen or hemp. The price is $110.00.
My officer grade camp stool employs more involved construction techniques with mortice and tenon joints with recessed riveting, hemp or linen canvas underpinning and green Baize upholstery covering secured with cast brass nails (tacks) to varnished walnut framing. Legs have a stylish slight serpentine Chippendale shape and these stools costs $300.00 on special order.
I am sorry, but I know of no folding stools appearing in etchings, engravings or paintings known to have been produced in the 18th century having a back support.
Regards,
Dick Toone
When recreating a historic piece of furniture I look at as many existing original samples as possible. After all, the resulting recreation has to be right! Having said that, the making of Revolutionary War era cots has posed a dilemma for years, because the several original cots I have seen never had original fabric in place.
What I do know it that headboard peg's spread has a width of 30 plus inches. The pin between the legs fixed the height and that too pointed to a 30 inch width. Canvas and most other fabric rarely exceeded 26 inches (this probably due to having to pass a hand shuttle back and forth when weaving).
Frank Rodrigues in New Bedford repairs sails for many historic and reproduction square riggers today and the English linen canvas he uses  still comes 26 inches wide. Linen is preferred because it does not stretch. Cotton does stretch and was too expensive in the 18th century for sails, tents, or cots. The only answer seemed to be to sew two pieces together of linen together. Now that gets expensive and I have no proof it was correct.
Enter Jim Kochan (James A. Kochan Fine Art & Antiques Frederick, MD) with an original cot with the original pieced canvas in place! So now I had confirmation of the piecing together the fabric.  Now the question is answered but the cost is higher. Oh well, either it is right or it is not.
My cots now will be with the pieced (double hand stitched) heavy linen canvas stitched and supplied by Frank Rodrigues. The canvas will be  secured to the cot rails by nails through a strip of leather all as observed from original 18th Century examples. The cots will handle very large people with no problem, disassemble for easier transport, and provide a sense of satisfaction of sleeping in comfort more correctly.
We unveiled the horner's spring pole lathe at the Honourable Company of Horner's 2012 Annual Meeting, which was held at the Army Heritage and Education Center in Carlisle, Pennsylvania earlier this month.

What makes this a horner's lathe is the ability to do what we modern lathe turners call "outboard turning." That is, to have an object that is being turned swing around without hitting the bed of the lathe; in this case, that object is a horn. This human-powered lathe can also do typical turning of spindles and other parts that would have been turned for furniture or staircases and such.

Do come back to our website often as we will be posting a video of  horns and horn butts being turned in the near future. We will also discuss the various parts of the lathe.


We have introduced  a 19th century design utilizing known earlier techniques in joint construction combined with practical iron work to allow for easier side(s) removal.
The use of a 20 inch diameter wheelbarrow wheel will push or pull a heavy load over rough terrain much easier than smaller diameter wheels. All the wood selected is for durability in weather and use including all white oak frame, steam bent hickory wheel with 1/4 inch thick iron rim, mahogany flooring and sides. The wheelbarrow is very strong and has two coats of barn red over primer finish. The handles have a hook shape at their ends for ease in pulling. The rails protrude well forward of the axle to aid in tipping a heavy load. Iron reinforcement at ends of legs and rails also serve as wear protection. The steel axle is a full 1/2 inch diameter with a 1 inch wearing surface easy to keep greased so is is quiet and long lasting.
This is not a lawn decoration but a reach back to the past design that is practical for the home farmer.  With the American Heritage Wheelbarrow one can  enjoy working with planting or harvesting, hauling chopped wood or fertilizer with properly designed tool.
Each wheelbarrow is individually hand made in the old fashioned way and because of cost shipping is best picked up at my workshop in New Jersey.
Price is $650.00 plus 7% NJ sales tax.
18th century design folding bedstead with bedding (tic) contained in a hide covered trunk. The idea to build this piece came from reinactor Jose Lopez Reyes who saw an original in a museum in Madrid, Spain.
George Washington had one that is now at The Henry Ford Museum, Dearborn, Michigan. This one utilizes a wooden frame, however, Washington's frame was metal.
The bed measures 32 inches wide by 73 inches long. Heavy linen sailcloth laced with hemp cordage provided by Frank Rodrigues. All hardware is hand forged period correct, blacksmithed by Jeff Miller. More than 500 cast brass nails (tacks) secure and decorate the oiled goat raw hide covering. These are the same tacks used Steve Freede of The Trunk Shoppe. The case is lined with green wool baize and fully finished.
This unique piece was shown  at the Pennsylvania Fine Folk Art and Arms Show, October 28, 29, 2011 at Carlisle, Pennsylvania.