"Please have a look at my work and stay awhile." Dick Toone, Artisan and Proprietor
In 2011 I undertook the Honourable Company of Horners' By-Law project that provides the Guild have an 18th Century traveling horn shop for educational demonstration at various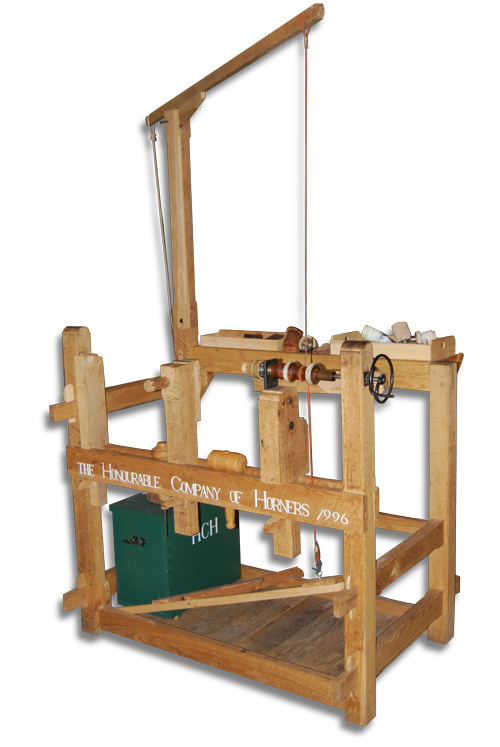 guild related or historical presentations. The lathe is specific to the production of professionally made powder horns using lathe construction detail of an original example capable of turning in open air without fixed centers. A very rare example of this sort of lathe exists in the collections of Old Salem, Winston-Salem, North Carolina.
Old Salem gave me permission to photograph and measure the original and a full size reproduction made by resident gunsmith Blake Stevenson operating in "The Brothers House" original structure. Old Salem is similar to Colonial Williamsburg other than it is in all original buildings, has working gunsmiths and bread baked in a 250 year old oven. Old Salem should be on every historical enthusiast's bucket list. (www.oldsalem.org)
Spring Pole lathes were state of the art for about 500 years gradually replaced by large wheel belt driving small wheel lathes using an off-set crank on the large wheel operated by direct coupling to foot driven rocker treadle toward the end of the 1700's. These later lathes are called treadle lathes (direct continuous drive) even though a treadle board operated spring pole lathes for centuries.
A major part of the lathe challenge was to establish means to hold and turn things with only known to the period devices. This required jigs, fixtures and even tools unique to the operation of a slow turning lathe that only operates one and one-half turn towards the operator per stroke of the foot.
Modern lathes have easily adjustable inner and outer chucks not available in spring pole times. Professionally made powder horns from a Horn Shop would have been constructed of turned components that could be closely fitted round to round for sealing out moisture. "Keep your powder dry!," as the saying goes.
Professional Horn Shops made various tight containers, combs, buttons, shoe horns, rims for optical lenses(glasses), drinking tumblers and window pane. Yes, flat clear pane for horn books used in schools as well as lanthorns, later called lanterns with glass or mica lenses. When heated cattle horn becomes plastic an adjective meaning malleable. Modern plastic is used as a noun for polymerized, chemical stew that replaced thousands of laborers in the horn industry early last century.
The epicenter of American horn manufacturing was in Philadelphia in the 18th Century boasting twelve shops at the time between the French and Indian war and the American Revolution. Horn smiths looking to strike out on their own relocated to the Southern and Western frontiers producing styles of horn independent of Philadelphia styling allowing researchers today to regionalize examples to a county and sometimes a town by their unique design. The hornsmiths migrated to wherever the frontier moved and the need existed.
Common to almost all professionally made powder horns is a stylized round wooden plug sealed tightly to the heated rounded horn at the big end opening. The tip of the horn is cut off and threaded of a size more suitable for refilling the powder horn. A two to three inch horn tip with a smaller diameter hole is tightly threaded into the main horn. Optimum word tightly to seal. Around the threaded portion of the horn body a horn collar is turned and fitted to provide structural strength to the area around the threaded portion. All of these items need a lathe to make them expertly and each item requires fixtures designed to work within the scope of 18th Century machining. This is experimental archaeology and none of the horns I've made are for sale.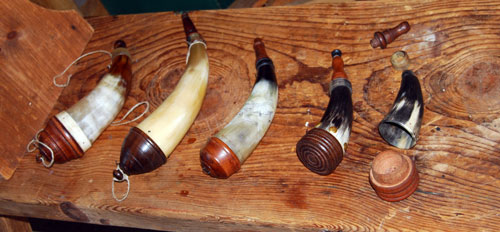 Check out www.hornguild.com for more education about working in cattle horn and this link to see a number of "posts" about the Honourable Company of Horners' spring pole lathe project.
I will be demonstrating with the Spring Pole Lathe at Horn Guild annual convention in March of 2016, Dixon's Gun Fair in Kempton, PA and the CLA show in August at Lexington, KY in 2016. I will be demonstrating the lathe local to me at the Jersey History Fair at Monmouth Battle Park Freehold, NJ in May 2016.
Regards,
Dick Toone
We unveiled the horner's spring pole lathe at the Honourable Company of Horner's 2012 Annual Meeting, which was held at the Army Heritage and Education Center in Carlisle, Pennsylvania earlier this month.

What makes this a horner's lathe is the ability to do what we modern lathe turners call "outboard turning." That is, to have an object that is being turned swing around without hitting the bed of the lathe; in this case, that object is a horn. This human-powered lathe can also do typical turning of spindles and other parts that would have been turned for furniture or staircases and such.

Do come back to our website often as we will be posting a video of  horns and horn butts being turned in the near future. We will also discuss the various parts of the lathe.


We hand-build 18th century travel furnishings and field equipage to your specifications.

The Living History Shop works in close collaboration with historic sites as well as the Smithsonian Museum to research and reproduce unusual and challenging examples of historic technology specific to the 1740-1790 time period.
Because of the increasing complexity and scope of our projects, we will no longer be printing a catalog. Simply call or email us with your needs or to obtain current prices and delivery schedule.
Curators of historic sites can obtain — with permission from sites in possession — reproductions of some of George Washington's personal campaign furniture and accessories, including his: Folding Field Bedsteads, Mess Kit, Stool, Liquor Chest, Shaving Kit, large Storage Box, Luggage and Writing Case.
All items are made from original examples I have seen and documented and employ construction details of the original. Iron keyed locks are used on chest lids and drawers. Hand forged iron work is made to our specifications by Jeff Miller (Flintlock Forge).
Examples include:
Wooden chests with dovetail or lap joints, forged iron or rope handles, snipe or strap hinges, painted or not
Pine topped tables with scissor leg or sawbuck design (2″ X-legs with streacher between)
Pine plank benches
Pine bench Shaving Horse
Red oak open frame wheelbarrows with solid (non-spoked) wheel standard
Red oak standard size ( 1 3/4″ thick frame) four spoke wheelbarrows with or without sides 1/2″ thick
White oak heavy duty wheelbarrows using 2″ thick stock for frame and 3/4″ thick sides and bottom – four spoke wheel
17-18th century Miner Style Wheelbarrow (from Diderot) with four spoked wheel in red or white oak 3/4″ sides
Walnut folding officers bedstead in single or double width complete with bed curtains, mattress, and storage chest
Walnut officers grade Chippendale style folding table with matching upholstered stool including custom canvas case
Walnut or maple Georgian period folding chair upholstered in leather
The best wooden handled table top brazier made
Officer grade Mess Kit Canteen
Wine crates with or without blown bottles
Wine chest with blown bottles and glasses of officer grade in iron clasped walnut and with hand made lock
Sundry small items such as lidded pine Tavern Tankards, Tape Looms, and curly maple Lanterns
Smoke & Fire News is a worthwhile publication for those interested in living history interpretation. Editor Lee Larkin is also a Master Horner.
He stopped by the Living History Shop tent during Ft. Frederick Market Fair. In the photo below, Lee (left) and Richard Toone discuss how the Spring Pole Lathe could be adapted to turn butt plugs for powder horns.
This ingenious spring pole lathe is operated by a foot treadle and provides ample power for turnings up to about 16″ in length. Durable timber frame construction easily disassembles by means of wedge keys and allows for portable transportation. Iron hardware.
Richard S. Toone demonstrates its operation at Rockingham: Washinton's Final Headquarters, during a living history interpretation.